The Hiring Prospects of College-Educated Latinos
Nicole's first book project, stemming from her doctoral dissertation research, relies on mixed-methods—including a correspondence audit study of 1,364 job postings in eight large metropolitan areas, a national survey experiment of 1,515 employers, and in-depth interviews with 47 employers, service providers, and lawyers—to examine the effects of nativity and legal status on higher-educated Latinos' employment opportunities.
Employment Discrimination Against Latino Immigrants
In the audit of 1,364 job postings in eight metros, she finds that native-born Latinos have almost twice the callback rate as foreign-born Latinos, regardless of whether those foreign-born have signals that they are "documented" or "undocumented."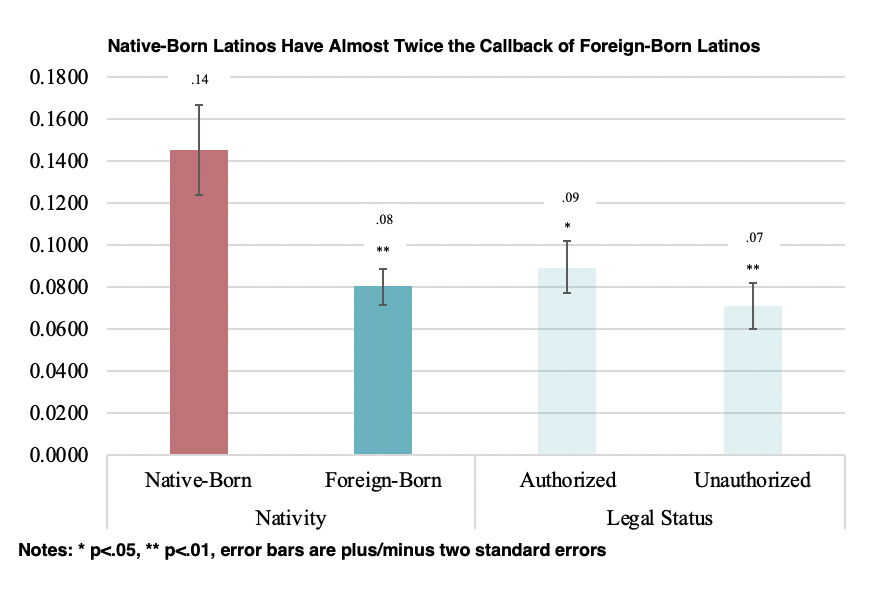 Focusing just on HR managers and associates from the survey experiment and in-depth interviews, she shows that both individual and organizational mechanisms explain why HR staff are reluctant to hire any Latino immigrant. Individually, employers hold nativist views about Latino immigrants' English language ability, which they perceive could threaten workplace culture. And organizationally, employers associate Latino immigrants with immigration enforcement and deportation, which they perceive could threaten workplace stability. Ultimately, the results point to the power of individual perceptions and immigration laws for hampering the employment of even documented college-educated Latinos.
A working paper summarizing these results can be found at SocArXiv. Another paper under review summarizes the results of the national survey experiment, drawing on all 1,515 respondents.